Hybrid cloud has become a popular solution widely used by modern businesses. This popularity is due to the flexibility of hybrid cloud, which enables companies to combine storage capabilities in public cloud, private cloud, and on-premises infrastructure. However, like any other technology, managing hybrid cloud often presents several challenges. 
For instance, managing a hybrid cloud involves addressing complex issues such as data distribution, network connectivity problems, and complex data center operations. With all this complexity, data stored in hybrid clouds can become vulnerable to leaks or theft. Therefore, maintaining data security and integrity is a top priority for every company adopting hybrid cloud. 
In this article, we will discuss various strategies that can help companies manage hybrid cloud effectively. Additionally, we will provide detailed practical steps and tips to ensure data security, reliable infrastructure, and optimal performance when companies adopt hybrid cloud. 
What is Hybrid Cloud and How It Works?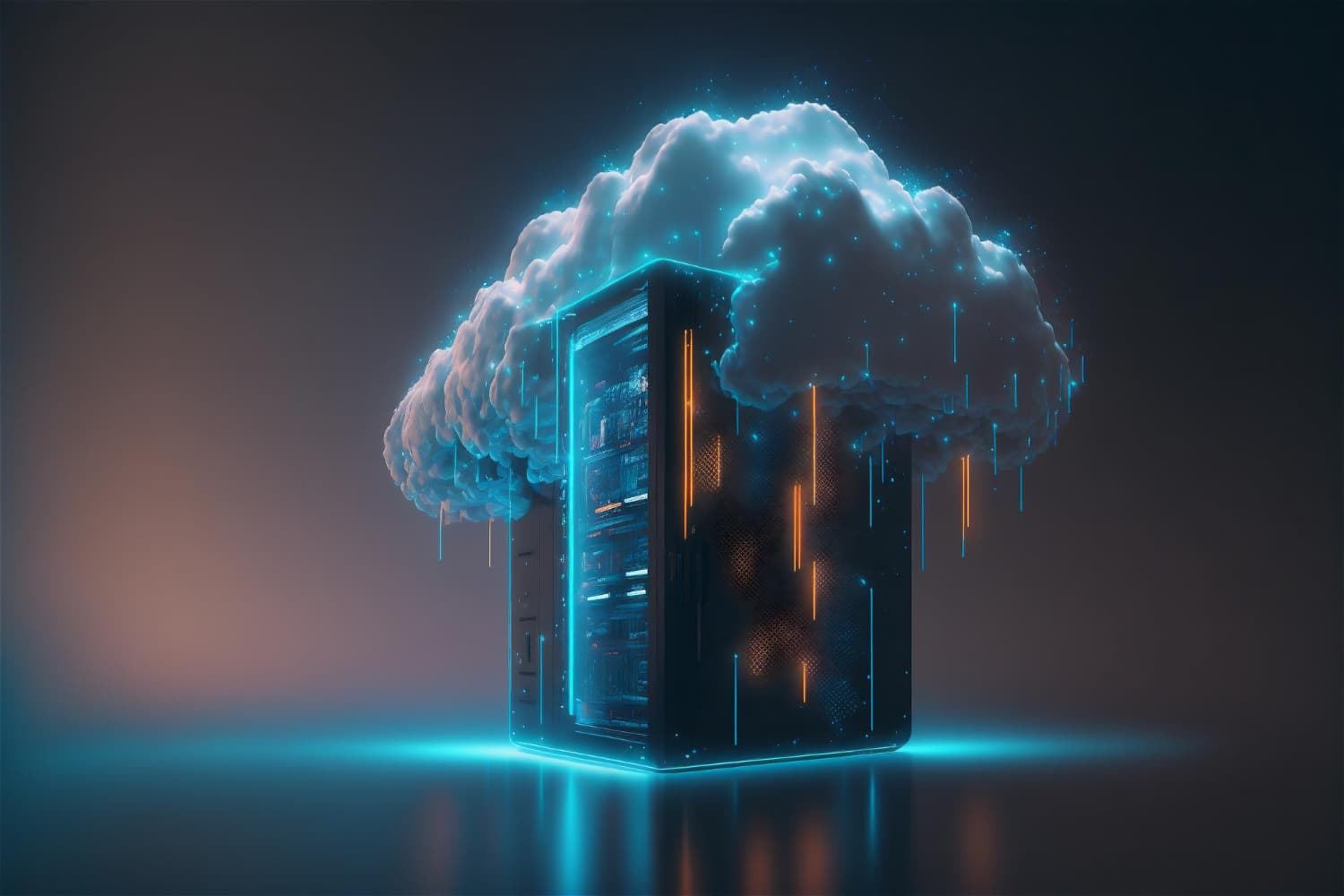 Hybrid cloud is a computing infrastructure model that combines two or more different computing environments, typically a combination of public and private clouds or on-premises infrastructure. 
How does it work? In this model, data and applications have the ability to move between private clouds, public clouds, and on-premises environments according to business needs. Hybrid cloud provides companies with the flexibility to leverage scalable and efficient cloud resources while still controlling and maintaining the security of sensitive data stored in on-premises environments. 
Here's operating steps for hybrid cloud: 
First, determine the composition of cloud storage. This depends on business needs. Choose whether to use more public or private clouds.

 

Next, determine which application components will run in the private cloud and which will be extended to the public cloud.

 

Implementation can be done in stages. There is no need to integrate all components in one large application at once.

 

Prepare monitoring tools to monitor performance and security in both environments, both private and public clouds.

 

Finally, ensure the team has the skills to manage hardware, software, and infrastructure in both cloud environments.

 
Challenges of Operating Hybrid Cloud Infrastructure
While hybrid cloud offers great flexibility and operational efficiency, it is not without its challenges. Firstly, one of the main issues faced by companies is business complexity. According to an Accenture report, 66 percent of companies switching to hybrid cloud encounter difficulties when integrating their public and private cloud environments. 
Legacy applications and infrastructure constraints pose another challenge. As many as 53 percent of companies experience problems integrating legacy infrastructure and applications into hybrid cloud environments. These challenges often require adapting and modernizing existing applications. 
A significant challenge is the lack of cloud skills, with 43 percent of companies reporting that it hampers their operations. 
Additionally, migration costs can spiral out of control. According to a McKinsey and Company report, uncontrolled costs during cloud migration could surpass US$100 billion in the first three years. 
Lastly, limited management and security tools are another hurdle that must be overcome. Many companies find it challenging to manage their cloud usage due to a lack of effective management tools, resulting in difficulties in ensuring the security of data in cloud-stored applications. 
To operate hybrid cloud infrastructure safely and efficiently, advanced hybrid cloud management tools like Hitachi Cloud Connect can be employed. This solution effectively addresses the various obstacles that can arise in hybrid cloud operations. 
Overcoming the Complexities of Hybrid Cloud Management with Hitachi Cloud Connect
Hitachi Cloud Connect is an innovative solution designed to address the challenges of managing hybrid cloud infrastructure. This solution enables companies to seamlessly integrate internal data center infrastructure with public clouds and external data sources, such as Equinix. Its primary goal is to facilitate the transition to a hybrid cloud environment without compromising data control and security. 
So, what sets Hitachi Cloud Connect apart? Here are some of its key benefits: 
Flexibility in Infrastructure Expansion
It empowers companies to expand their infrastructure to any Equinix location of their choice. This simplifies the integration of data center infrastructure with the public cloud, making it a flexible and straightforward process. 
Efficient Data Management
It is equipped with tools for more efficient data management. Companies can better monitor, manage, and protect their data while meeting stringent security and compliance requirements. 
Fast Connection to Public Cloud
It offers instant connectivity to the company's preferred public cloud service. This allows the utilization of additional cloud resources as needed without navigating complex processes. 
Transforming Data into Insight
Equipped with advanced analytical tools, including AI Ops, it helps convert operational data into actionable insights. This enables companies to make strategic decisions based on the information derived from their data. 
In summary, Hitachi Cloud Connect is a solution that assists companies in optimizing the benefits of their hybrid cloud environments efficiently while overcoming the complexities often associated with managing cloud-integrated infrastructure. 
How Hitachi Cloud Connect Provides Full Control Over Your Hybrid Cloud Infrastructure
Hitachi Cloud Connect empowers you with comprehensive control over your hybrid cloud infrastructure through a variety of approaches, including: 
Smooth Data Pipeline
It establishes seamless data pipelines connecting diverse infrastructure components, encompassing public clouds, external data locations like Equinix, and enterprise data centers. This facilitates efficient infrastructure connectivity. 
Trusted Technology Utilization
Hitachi Cloud Connect enables companies to leverage proven Hitachi VSP storage technology. This involves the deployment of Hitachi VSP arrays in both internal data center facilities and at Equinix locations. By harnessing established technology, companies can uphold the high standards of security, reliability, scalability, and durability they expect. 
Efficient Data Replication
External VSP systems simplify the connection and data replication process from VSP systems located in data centers. Equinix offers direct connections to various public clouds, allowing swift data transmission and movement between storage arrays. 
Centralized Management
The platform offers unified visibility across the entire VSP storage infrastructure. This includes comprehensive management, monitoring, and predictive analytics that govern every facet of the overall storage environment. 
Security and Data Protection
It delivers advanced security solutions, offering flexibility in data copying and movement among on-premises, public cloud, and private cloud locations. Moreover, critical data is safeguarded through indelible storage, preventing deletion or damage from threats and facilitating rapid recovery to counter ransomware threats. This ensures the security and reliability of company data. 
Monitoring and Analytics
Advanced monitoring and analytics are enabled through AIOps (Artificial Intelligence for IT Operations). This encompasses comprehensive telemetry monitoring, analytics, troubleshooting, and automation across on-premises and cloud VSP environments. These tools reduce recovery time, enhance operational efficiency through automation, and automatically analyze network root causes. 
With this approach, Hitachi Cloud Connect provides companies with complete control over their hybrid cloud infrastructure, enabling efficient, secure, and effective management while addressing the complexities often encountered in cloud operations. 
Read more: Presenting a Hassle-free Hybrid Cloud Management Solution: Hitachi Vantara Collaborates with Microsoft Azure 
Obtain the Hitachi Cloud Connect Solution from Central Data Technology
It's time to establish an integrated hybrid cloud management system with the Hitachi Cloud Connect solution. Central Data Technology (CDT), as an authorized partner of Hitachi Vantara, is ready to assist you in implementing this solution. Our team of experts is available to discuss your business requirements during the implementation process. 
Take advantage of a special offer from CDT for utilizing Hitachi Cloud Connect. We'll guide you from the consultation stage through deployment, providing post-sales support to ensure a seamless experience and avoid trial and error. To learn more about Hitachi Cloud Connect, contact us by clicking the following link. 
Author: Ary Adianto 
CTI Group Content Writers