Big Data Management, Made by Convenience
With AWS, you can now analyze your big data more effectively, quickly, and efficiently.
What Can AWS Do for Big Data Analytics?
AWS Big Data Analytics is an AWS product that offers a platform with the most comprehensive set of managed services to help you build, protect, and scale end-to-end big data applications rapidly and easily. Whether your application requires real-time streaming or batch processing of data, AWS has the infrastructure and specialized tools to fulfill your business's big data needs.
There is no new hardware to purchase, and no infrastructure to maintain and update with AWS Big Data Analytics. All that is required is the collection, storage, processing, and analysis of big data. AWS also provides an ecosystem of analytics tools designed to handle ever-increasing volumes of data and provide business insights.
What Are the Benefits of AWS Analytics?
Pay-as-You Go
Cloud computing allows you to just pay for the service you use.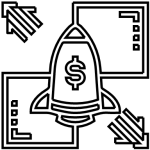 Easy to Scale
Scale the application as required. As your demands change, you can scale your IT infrastructure on AWS to match them without having to wait for new hardware.
More Cost Efficient
Increase capacity and compute in minutes, allowing your big data applications to expand and shrink on demand and help systems to operate at their best.
Flexible Computing
Get flexible computing on a global infrastructure with access to the many geographic locations AWS provides, as well as the ability to build powerful big data applications using other services such as Amazon S3, AWS Glue, and AWS IoT.
Advanced Authorized Partner
PT Central Data Technology (CDT) is a subsidiary of the CTI Group has been authorized as an AWS advanced authorized partner in Indonesia.
Professional IT experts have assisted 150++ customers from variety of industries in Indonesia, Myanmar, UK, and other countries in the world in deploying solutions to support business operations.
CDT IT specialists are certified to assure solution quality before and after implementation.
Manage Your Business With Us!